Pugh's Earthworks
Spring will be here in just two weeks. Pugh's Earthworks is preparing their planting schedules to start planting shrubs and flowers. Our commercial clients will have the most colorful and attractive landscapes in town. Shrubs are an ideal item to add because they add texture, depth, and scope to your landscape. They can be natural dividers, too, to create different sections to your commercial landscape or residential yard.
The professionals at Pugh's Earthworks will consult with our customers and mutually decide on the type of shrub to best fit in with the landscape theme desired. There are flowering and non-flowering shrubs that work well in different growing zones. As your landscape partner, we can recommend shrubs that work well for your environment, including considering how much shade or sun that area may offer.
Planting shrubs involves a specific process to make sure they can adapt and thrive where they are planted. Make the soil moist  before digging a hole for the shrub.  From there, dig a hole that is three or four times as wide as the container the shrub came in. However, the hole should be about the same size as the height of the containers.
Fill the hole with water and then let it drain out before putting the shrub in the hole you dug. Put half the soil back into the hole and pat it down. Now, add the rest of the soil and compact that lightly. Add water and mulch around the top of the soil. For the first two months after planting the shrub, water it at least once a week if it hasn't rained.
If this sounds like more work than you think you can do or you would prefer a professional to plant and manage your shrubs and landscape, then contact us. We would love to work with you and design and maintain your commercial or residential landscape.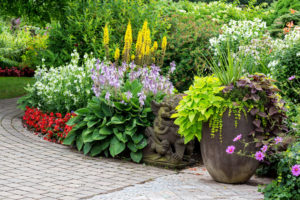 Colorful Shrubs and Flowers
Pugh's Earthworks provides commercial landscape design and maintenance services throughout Tennessee, including Memphis, Jackson, and Nashville. We have five commercial landscape service operations in three states, including landscapes and service lawns and landscaping in Little Rock, Arkansas. Our monthly services include landscape design and maintenance, customized to your needs, budget, and seasonal situation.
One thing we offer our commercial clients is an online Q&A. Below is one example regarding landscape design:
Q: After I have decided upon the landscape rooms of my design, what are my next steps in the design process?
A: Now that you have thought about your property in terms of rooms and established some priorities, it's time to walk around your property and inventory and evaluate it. Doing so will help you objectively consider its positive aspects and limitations. There may be some things that are not possible once the property (site) is inventoried, while new possibilities may emerge. In any case, your design priorities must fit the site, or you will have problems. For example, planting a rose garden (a priority) in a shaded site (site inventory) will quickly lead to decline in rose quality. A decision needs to be made; modify the planting and install shade-loving plants in that area, or modify the site by removing trees and/or thinning out tree branches to improve sunlight for the roses.
Begin by making a scaled drawing of your property; this is the "base plan." Include property lines, house, garage, other structures, driveway, and sidewalks on this plan.
Pugh's Earthworks operates in Memphis, Nashville, Jackson TN, Little Rock and Southaven MS.  In every market we are committed to providing the highest quality landscaping services available.  Our certified professional team is committed to acting with the utmost of integrity with our business operations and for clients. Every job we do is backed by our 100% customer satisfaction guarantee.
Pugh's Earthworks offers an excellent quality assurance program. We are licensed and insured and stand behind all of the work that we perform with our quality assurance guarantee.
Quality is everyone's responsibility.
Quality is conformance to the customer's requirements.
We believe every job can be improved.
Every idea is treated with the utmost respect.
We realize that improvement must be an on-the-job process.
QUALITY POLICY
It is the goal of Pugh's Earthworks to provide our customers, both internal and external, with services, which meet or exceed their expectations.
We recognize that one of the most important assets we possess, enabling us to achieve this goal, is our professional staff. We strongly encourage all of our people to take the pride of ownership in all the work they do.
To this end we commit ourselves to strive in all we do for total customer satisfaction.
TOTAL CUSTOMER SATISFACTION
Management guarantees that ongoing support of these goals is our highest priority. We must never lose sight that customer satisfaction is a direct measure of our performance.
Working together as a team, making use of all our talents and expertise, we will accomplish our objective.
Meet Our Team
We are ready to start taking good care of your property
Give us a call at (866) 207-4734