Pugh's Earthworks commits to strive in all we do for total customer satisfaction
May has now arrived and already temperatures are expected to be in the nineties and above in some regions. Will not be long before the summer heat sets in for the long haul. Proper Summer Commercial Lawn Care is critical to keep lawns looking good and staying healthy. The certified and professional Landscape Technicians at Pugh's Earthworks, have the knowledge and tools to keep Commercial Property lawns in tip top shape during the hot summer.
Being exposed to excessive heat not only takes its toll on us humans but it also is difficult to bear for nature. Meaning plants, flowers, and lawns. However, you can still enjoy a healthy Commercial Landscape even in the midst of extreme summer heat when you hire Pugh's Earthwork's.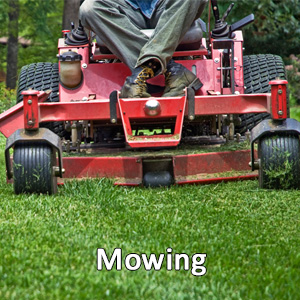 There are numerous actions that can be taken during the extreme heat of summer. Our team at Pugh's Earthworks is trained in all aspects of climate adjustments as it relates to Commercial Landscaping. Below are a few of the things we are mindful of.
Length of the Lawn
Often people like to mow the lawn very short. It looks nice and neat and gives the lawn that well-kept golf course look. However, when this happens and it is super-hot outside, your lawn suffers and turns brown. This is because the lawn is restricted on how much energy it can produce for growth. However, if you do not trim it too short, then the grass can develop stronger roots. And it is those stronger roots that support plants that can tolerate the stress that heat puts on it during the summer months.
Use the One-Third Rule
To determine the correct height to cut your grass, apply the "one-third" rule. This rule says never remove more than one-third of the grass height at one time. This keeps the lawn cooler because it removes less plant tissue. For example, if you normally cut your lawn at 2.5 inches, increase it to 3 inches during the hot summer months.
Do not Over Water
A big mistake so many people make, is to think the heat means grass needs more water. However, all that does is create another problem. The soil then tends to be constantly wet. This causes the grass roots to be deprived of oxygen. This can make them more susceptible to disease because diseases tend to thrive in wet conditions. Therefore, the drier the grass and soil, the less risk for a disease. Although you want to ensure hydration, you do not need to water daily to get that.
Keep Mower Blades Sharp
When grass is cut with a sharp mower blade, it will heal faster. Then, it is less susceptible to stress and disease that comes during the hot season. Also, the sharper mower blades will prevent a brown appearance.
Use a Mulching Mower
Rather than bagging up the lawn clippings, return them to the lawn by using a mulching mower. Clippings act as a slow-release fertilizer for the plant. In addition, by not bagging your grass clippings you are actually helping the environment by not filling the land fills with extra waste.
Focus on Year-Round Lawn Health
Whether there is heat or not, it is important to maintain your lawn's health the whole year round. Then, when it is hot, your lawn will already be prepared for the temperature change.  That way, grass will tolerate the heat more easily. Focus on season-long care, which includes fertilization, watering, mowing, and pest control.
Pugh's Earthworks Summer Commercial Lawn Care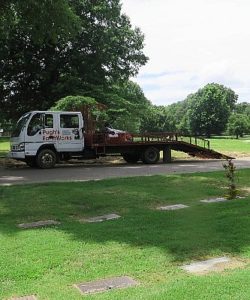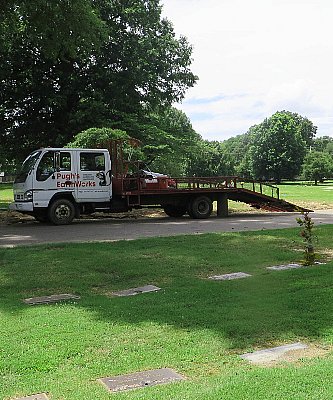 With offices in Arkansas, Mississippi and Tennessee, Pugh's Earthworks is well known as a premiere Mid-South Commercial Landscaping Company. Our company offers an excellent quality assurance program that competes with any Commercial Landscaping company in our region. We are fully licensed and insured and stand behind all of the work that we perform with our quality assurance guarantee.
Quality is everyone's responsibility.
Quality is conformance to the customer's requirements.
We believe every job can be improved.
Every idea is treated with the utmost respect.
We realize that improvement must be an on-the-job process.
QUALITY POLICY
It is the goal of Pugh's Earthworks to provide our customers, both internal and external, with services, which meet or exceed their expectations.
We recognize that one of the most important assets we possess, enabling us to achieve this goal, is our professional staff. We strongly encourage all of our people to take the pride of ownership in all the work they do.
To this end we commit ourselves to strive in all we do for total customer satisfaction.
TOTAL CUSTOMER SATISFACTION
Management guarantees that ongoing support of these goals is our highest priority. We must never lose sight that customer satisfaction is a direct measure of our performance.
Working together as a team, making use of all our talents and expertise, we will accomplish our objective.
Pugh's Earthworks offers Summer Commercial Lawn Care
Contact us today to find out what we can do for your commercial landscape!
Headquarters
Phone: (866) 207-4734