Pugh's Earthworks
When commercial property owners are in search of a landscaping company to design and maintain the landscaping for their property, it is important to evaluate the services and knowledge of each company. Pugh's Earthworks is a world class commercial landscaping company and not only possesses the skills and knowledge but also embraces customer service with a 100% satisfaction guarantee.
In addition to commercial landscaping and monthly lawn maintenance programs, Pugh's Earthworks also provides many other services. Our expert staff can redesign your entire landscape. We create some of the most incredible outdoor environments you have ever seen. From landscape bed design, to plant and flower installation and maintenance, Pugh's Earthworks is the firm who can handle all your landscape and maintenance needs. Our firm employs a professional team who can handle landscape and lawn maintenance projects of any size.
We have been serving Memphis and West Tennessee, Little Rock AR, and Nashville, TN since 1991. Pugh's Earthworks provides a complete landscape solution for property owners and managers eliminating the need for multiple contractors.  All of our staff has a "Can Do" attitude that we promote and as a result this sets us apart from other landscape companies.
Our fleet of trucks contains specially trained team members who consistently provide professional service with personal involvement for each and every client. The company is fully licensed and insured, our equipment is state of the art and well maintained from our in-house repair facility. Pugh's Earthworks understands that property owners have made a significant investment of time and money in the properties we service. For that reason, we are dedicated to make them look their best with a custom plan for each individual property.
Please complete our Free Quote request to make arrangements for a full property evaluation free of charge.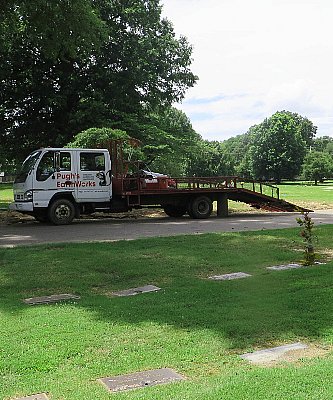 At Pugh's Earthworks, our primary focus is commercial landscaping and lawn maintenance. We provide landscape services and monthly lawn maintenance programs for large office buildings, apartments, condominiums, retail shopping centers, hospitals and cemeteries. Our landscape services include things like, pruning, flower bed design and flower installation, site clean up, debris removal, mulch, snow and ice removal, property enhancements and upgrades.
We offer affordable monthly lawn maintenance programs. These maintenance programs are available for large office buildings, retail facilities, small office environments, condominiums, apartments, cemeteries, hospitals and more.
The Pugh's Earthworks has all the proper credentials, degrees and certifications necessary to deliver top quality landscape and lawn maintenance design, installation and maintenance services. Our team is experienced, highly skilled. They all operate with a customer first attitude.
Our firm is one of the largest landscape and lawn maintenance companies in Tennessee. We have all the right equipment to handle commercial landscape and lawn maintenance projects. Our client base includes hotels, motels, business complexes, retail shopping centers, hospitals, schools, apartments, condominiums and other commercial accounts.
Tennessee Department of Agriculture Chartered/Licensed
Mississippi Bureau of Plant Industry licensed
Arkansas State Plant Board Licensed
Master of Business Administration
Bachelors of Science in Agronomy
Bachelors in Landscape Contracting Management
Associates of Applied Science in Landscape Management
Associates of Applied Science in Turf Grass Management
Dynascape Certified
Planet Professional Network
Landscape Industry Certified

Pugh's Earthworks offers an excellent quality assurance program. We are licensed and insured and stand behind all of the work that we perform with our quality assurance guarantee.
Quality is everyone's responsibility.
Quality is conformance to the customer's requirements.
We believe every job can be improved.
Every idea is treated with the utmost respect.
We realize that improvement must be an on-the-job process.
QUALITY POLICY
It is the goal of Pugh's Earthworks to provide our customers, both internal and external, with services, which meet or exceed their expectations.
We recognize that one of the most important assets we possess, enabling us to achieve this goal, is our professional staff. We strongly encourage all of our people to take the pride of ownership in all the work they do.
To this end we commit ourselves to strive in all we do for total customer satisfaction.
TOTAL CUSTOMER SATISFACTION
Management guarantees that ongoing support of these goals is our highest priority. We must never lose sight that customer satisfaction is a direct measure of our performance.
Working together as a team, making use of all our talents and expertise, we will accomplish our objective.
Contact us today to find out what we can do for your commercial landscape!
Headquarters
Phone: (866) 207-4734