Pugh's Earthworks
Curb appeal is extremely important and something the experts at Pugh's Earthworks will deliver for your commercial property.  Consider the importance of how the front of your business looks to passers-by. The façade of a building is the single most important factor determining its curb appeal. It is the first impression that customers will see of your business. Attractive signage, uncluttered windows and fresh paint can go a long way in presenting your business at its best.
Next, consider your signage. It should be in plain view and easy to read. It should also be made out of quality materials. Remember the old saying "you get what you pay for" and avoid cheap-looking material. Choose a sign that complements the business district that you're located in. If you're in a shopping center your sign should match the size, style and material of the other businesses in the center. And remember to check with your local permit office to learn if you need a sign permit.
Take a look at your parking area. You will want ample, convenient parking on a paved lot with clear markings. Lots should be well-maintained; potholes should be fixed and faded lines should be repainted. If you are located in an urban area with lots of asphalt and no trees, consider adding tree islands and evergreen shrubs. This can make a huge impact on your curb appeal while at the same time improving the environment. Remove grass that invariably grows in cracks next to curbs and sidewalks as well as in parking lots.
The Pugh's Earthworks certified technicians will keep your commercial landscaping well-maintained and well-manicured. Updating your business landscaping with simple evergreen shrubs can have a huge impact at relatively low-cost. Consider adding color to your site with knock-out roses. They are hardy in a southern climate and are being used more frequently in privately-owned commercial projects as well as publicly-owned street medians.
If you have Crape Myrtle trees on your property keep the "suckers" – all the new shoots that occur around the base of Crape Myrtle trees – trimmed away. And do not forget to keep the public sidewalk in front of your business free from weeds, tree limbs and other debris.
Businesses first impressions are judged by their curb appeal and overall appearance. Fortunately, your business' image is within your control. Consider these tips and implement those your business needs and contact Pugh's Earthworks to help with your landscaping needs.
Pugh's Earthworks is one of the Mid South' s leading commercial landscape installation and maintenance companies. Pugh's Earthworks provides the highest quality landscaping services available. We are Memphis landscape maintenance experts. Our team is committed to acting with the utmost of integrity with our business operations and for clients and the communities we serve. Every job we do is backed by our 100% customer satisfaction guarantee.
We are one of the largest landscape design, installation and maintenance firms in the Mid South area. Our clients include some of the premier office buildings, hotels, hospitals, churches and cemeteries in the cities we operate. In addition to the commercial customers we serve, we also provide landscape services for Home Owners Associations, Condo Owners Associations and individual residential home owners as well. Our staff has years of experience and can handle projects of any size.
Pugh's Earthworks has had much success and growth. However, throughout that rapid expansion the management has never lost sight of their mission statement. That statements is,  Big Company Strength, Small Company Values! Regardless of the size of the client we are working for, our staff will deliver the best possible service, while treating each client with the utmost of respect. In a word, "We Love Our Customers" and "We Appreciate The Opportunity To Serve."
Our Quality Assurance Guarantee
Pugh's Earthworks offers an excellent quality assurance program. We are licensed and insured and stand behind all of the work that we perform with our quality assurance guarantee.
Quality is everyone's responsibility.
Quality is conformance to the customer's requirements.
We believe every job can be improved.
Every idea is treated with the utmost respect.
We realize that improvement must be an on-the-job process.
QUALITY POLICY
It is the goal of Pugh's Earthworks to provide our customers, both internal and external, with services, which meet or exceed their expectations.
We recognize that one of the most important assets we possess, enabling us to achieve this goal, is our professional staff. We strongly encourage all of our people to take the pride of ownership in all the work they do.
To this end we commit ourselves to strive in all we do for total customer satisfaction.
TOTAL CUSTOMER SATISFACTION
Management guarantees that ongoing support of these goals is our highest priority. We must never lose sight that customer satisfaction is a direct measure of our performance.
Working together as a team, making use of all our talents and expertise, we will accomplish our objective.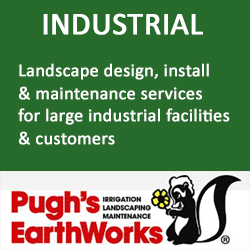 Pugh's Earthworks Headquarters
Phone: (866) 207-4734
Email: info@pughsearthworks.com
Please contact us today. We would be honored and thrilled to be your permanent Commercial Landscaping Design and Maintenance Company!