Pugh's Earthworks
Hardscaping is landscaping that uses hard materials such as stones, concrete and rock to create durable, natural-looking features. Hardscaping is used to define the exterior of your business. Hardscaping also includes building patios, walkways, and fire pits. The main benefit of hardscaping is its durability. Hardscaping will add value to your commercial property. Elegant stone patios, walkways and driveways look like they belong in a magazine but are affordable to build. A variety of stone options are available for use in any type of hardscape project. The professionals at Pugh's Earthworks are the best in the Mid-South Region at Designing Hardscapes.
Hardscaping is an excellent way to add value to your commercial property because it helps increase its curb appeal while also improving functionality. For example: if you want an outdoor kitchen for employees and entertaining customers, you might go with an island countertop made from stone slabs instead of wood or laminate flooring in your kitchen but do not want to spend thousands of dollars on new cabinets and countertops then consider adding them as part of hardscaping project instead!
If you are planning on building a new building or renovating an existing one, then hardscaping is a great addition to your list of home improvement ideas. Hardscaping can be used for the exterior of your commercial property or on its own as a standalone feature. It can include patios, walkways and fire pits. It can also be used to accentuate an existing feature or add interest to an otherwise plain space. In addition to providing visual appeal, these features help with drainage and erosion control by stabilizing the soil around them.
Hardscaping is also an effective way to reduce maintenance and improve the overall appearance of your commercial property. When designing a hardscape, consider the amount of time and money you want to spend on maintaining it. Some materials require little maintenance, while others may need to be repainted or sealed on a regular basis. It is also important to consider drainage when choosing a hardscape surface. Water collects in depressions, such as those caused by steppingstones in your walkway. If there is no drain nearby, it can lead to standing water and mold issues later on.
Fire pits are popular additions to any outdoor space because they add warmth while creating an inviting atmosphere for employees, friends and customers to gather around during cold weather months (or anytime!). Fireplaces are another great way to incorporate heat into your backyard oasis; they are available in both freestanding styles as well as those built right into your business!
The main benefit of hardscaping is its durability. Stone is a natural material that can last for decades if properly maintained, making it a low-maintenance option for your property. Stone is also easy to maintain because it does not require much effort to keep clean and free from debris. If you want to keep your stone looking pristine, all you need are some basic tools like a broom or power washer, which makes this material ideal for those who do not have much time on their hands but still want their outdoor spaces looking great! Stone is also a great choice for those who want their outdoor spaces to be as eco-friendly as possible. This building material is made from natural resources like sandstone and granite, which makes it much more environmentally friendly than many other options out there.
Hardscaping can also help you save money on utilities, like heating and cooling costs. In fact, adding a deck or patio can reduce energy usage by up to 30%!
Here are some ideas for hardscaping projects that will help you increase the value of your commercial property:
Adding a deck or patio
Adding a fire pit and furniture
Installing a pergola or arbor
Building a retaining wall
Picking the right stone for your hardscape project is an important part of creating a beautiful landscape. Stone can be used on patios, walkways and borders to create a functional yet stylish area in your yard. There are many different types of stone available, so you can choose one that matches the style of your commercial property while still providing great functionality. The experts at Pugh's Earthworks can help you with all your landscaping needs!
If you are interested in learning more about hardscaping and how it can benefit your property, contact Pugh's Earthworks today. With over 30 years of experience, they are the experts when it comes to hardscaping! They will help you choose the right materials for your project and work with you every step of the way so that all your landscaping needs are met. Pugh's Earthworks is a full-service landscaping company that specializes in hardscaping. They have over 30 years of experience in the industry and have worked on projects ranging from residential to commercial properties, so no matter what type of hardscaping you need, Pugh's Earthworks can help!
Conclusion
We hope you enjoyed this article on how hardscaping can benefit your property. If you are looking for more information on how to get started with your own hardscape project, we encourage you to contact the experts at Pugh's Earthworks today! They will be happy to answer any questions and give advice on choosing materials and designs that best suit your needs.
Pugh's Earthwork is the Premiere Commercial Landscaping Company in the Mid-South Region
Types Of Clients We Serve are Apartments, Business Complexes, Cemeteries, Condominiums, Hospitals, Hotels, Shopping Centers
We have been serving Memphis and West Tennessee, Little Rock AR, and Nashville, TN since 1992. Pugh's Earthworks provides a complete landscape solution for property owners and managers eliminating the need for multiple contractors. We have a "Can Do" attitude that sets us apart from other landscape companies.
Our fleet of trucks contains specially trained team members who consistently provide professional service with personal involvement for each and every client. The company is fully licensed and insured, our equipment is state of the art and well maintained from our in-house repair facility. Pugh's Earthworks understands that property owners have made a significant investment of time and money in the properties we service. For that reason, we are dedicated to make them look their best with a custom plan for each individual property.
Please complete our Free Quote request to make arrangements for a full property evaluation free of charge.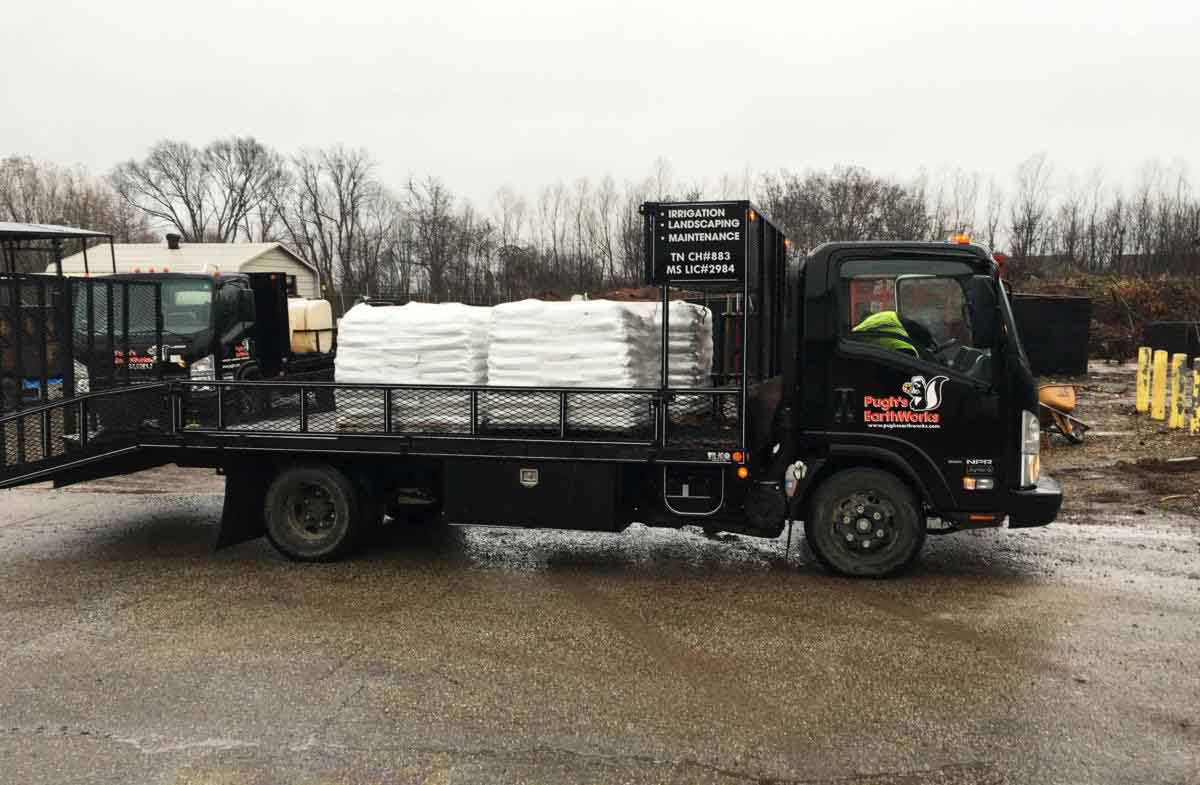 Pugh's Earthworks
We operate 5 landscape centers, in 3 states.
Our headquarters is in Memphis, Tennessee. We also operate landscape offices in Nashville, Jackson TN, Southaven MS and Little Rock AR. Our firm provides monthly grounds maintenance services for commercial clients. If you are seeking assistance with Landscaping or Lawn Maintenance services, please give us a call or send us a message via the contact form below. We do offer FREE Estimates.
Headquarters
Phone: (866) 207-4734