Pugh's Earthworks
Commercial Properties come in all varieties and the landscaping on the property speaks volumes about it. For example, if you are the owner of a large apartment or condominium complex, having a professional well-kept appearance will aid in attracting and retaining residents. Same if you are the owner of a retail shopping center in that people will be attracted to a well-kept and properly maintained commercial landscape. The list goes on for office complexes, hotels, Cemetaries and more. Pugh's Earthworks is a Mid – South Best Commercial Landscaping Company that has been in the business for decades.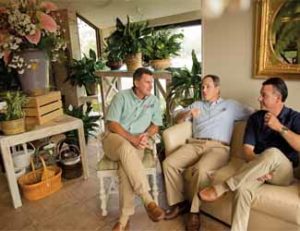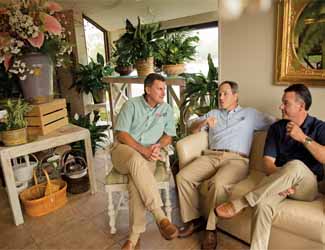 Your commercial landscape most likely has served you well over the years, offering a professional look. However, like everything, this might be the time to think about a makeover to revitalize that commercial landscape. There are many reasons to consider this change. First, changing the commercial landscape creates new interest for visitors and offers them a fresh, inviting place. Second, the changes in environmental concerns mean you will need to think about water conservation and a move to drought-resistant plants. Third, like the outside of your commercial building, it could just be time for improvements due to age, wear and tear, and weather impact. In all situations, you do not want dead or broken trees and shrubs to impact others' impression of your business. Plus, any fallen limbs or ragged branches can put employees and visitors to the property at risk for injury.
It is always a good time to review your Commercial Landscaping and assess its appearance. When you do, recruiting the expertise of professional commercial landscape services like Pugh's Earthworks is critical. We will help to revitalize how the surroundings of your business look. We can come up with a plan on how to change it as well as a timeline to revamp your landscape in a way that doesn't interfere with visitors and clients coming to your business. Our services include collecting and hauling away debris, trimming back, or pruning bushes and mature trees, and planting new flowers, plants, and greenery that complement your building's architecture.
Pugh's Earthworks will recommend a way to use less water and make improvements to your existing irrigation system. If you have grass, then we'll also take care of your lawn and bring it back to life if it needs more attention. This also involves weed control and other preventative measures to help ensure a beautiful commercial landscape.
Contact us today to find out what we can do for your commercial landscape to make it an attractive and welcoming way to greet visitors and clients.
Pugh's Earthworks Premiere Commercial Landscaping Services
Based out of Memphis Tennessee, Pugh's Earthworks also serves Nashville, Jackson TN, Littlerock AR and Southaven MS. Our company was originally started by Mark Pugh and has been in business since 1992. Brothers Michael and Tim joined Mark and over the past 25 years they have successfully grown rapidly. In all that time and throughout all that growth, we have remained true to our motto, Big Company Strength, Small Company Values! Regardless of the size of the client we are working for, our staff will deliver the best possible service, while treating each client with the utmost of respect. In a word, "We Love Our Customers" and "We Appreciate The Opportunity to Serve."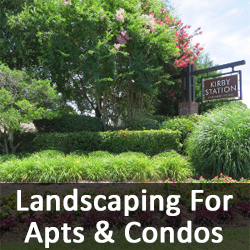 We welcome you to browse our Pugh's Earthworks website. Here you can learn more about our expert broad range of services and our solid commitment to excellence. We are proud to be one of the Mid-South' s leading commercial landscape installation and maintenance companies. Our love for this part of the country is deep rooted. Pugh's Earthworks provides the highest quality landscaping services available. We are Memphis landscape maintenance experts. Our team is committed to acting with the utmost of integrity with our business operations and for clients and the communities we serve. Every job we do is backed by our 100% customer satisfaction guarantee.
We are one of the largest landscape design, installation and maintenance firms in the Mid-South area. Our clients include some of the premier office buildings, hotels, hospitals, churches and cemeteries in the cities we operate. In addition to the commercial customers we serve, we also provide landscape services for Homeowners Associations (HOA's), Condo Owners Associations (COA's) and individual residential homeowners as well. Our staff has years of experience and can handle projects of any size.
The Pugh's Earthworks team is confident that every client we service is getting the best product on the market. However, we also realize that is not really just what we think but more importantly what our customers think. To that end we encourage clients to send us testimonials that we also publish for public view on our website. Below is a sample of what you find:
"Pugh's Earthworks is a landscape contractor who does what they tell you they will do and stands behind their products they install. They truly make my homeowners feel their business is appreciated and show a desire to make sure they are completely satisfied."

Ken Garland, Jr.

Custom Homebuilder, Germantown TN
Pugh's Earthworks
Headquarters
Phone: (866) 207-4734
Email: info@pughsearthworks.com