Pugh's Earthworks
Big Company Strength and Small Company Values!
Pugh's Earthworks was originally started by Mark Pugh. Our firm has been in business since 1992. Over the past 25 years, we have grown rapidly. In all that time and throughout all that growth, we have remained true to our motto, Big Company Strength, Small Company Values! Regardless of the size of the client we are working for, our staff will deliver the best possible service, while treating each client with the utmost of respect. In a word, "We Love Our Customers" and "We Appreciate The Opportunity To Serve."
We are now one of the Mid South' s leading commercial landscape installation and maintenance companies. Pugh's Earthworks provides the highest quality landscaping services available. We are Memphis landscape maintenance experts. Our team is committed to acting with the utmost of integrity with our business operations and for clients and the communities we serve. Every job we do is backed by our 100% customer satisfaction guarantee.
Our Quality Assurance Guarantee
Pugh's Earthworks offers an excellent quality assurance program. We are licensed and insured and stand behind all of the work that we perform with our quality assurance guarantee.
Quality is everyone's responsibility.
Quality is conformance to the customer's requirements.
We believe every job can be improved.
Every idea is treated with the utmost respect.
We realize that improvement must be an on-the-job process.
QUALITY POLICY
It is the goal of Pugh's Earthworks to provide our customers, both internal and external, with services, which meet or exceed their expectations.
We recognize that one of the most important assets we possess, enabling us to achieve this goal, is our professional staff. We strongly encourage all of our people to take the pride of ownership in all the work they do.
To this end we commit ourselves to strive in all we do for total customer satisfaction.
TOTAL CUSTOMER SATISFACTION
Management guarantees that ongoing support of these goals is our highest priority. We must never lose sight that customer satisfaction is a direct measure of our performance.
Working together as a team, making use of all our talents and expertise, we will accomplish our objective.
Pugh's Earthworks is in step with the NALP regarding Covid responsibilities!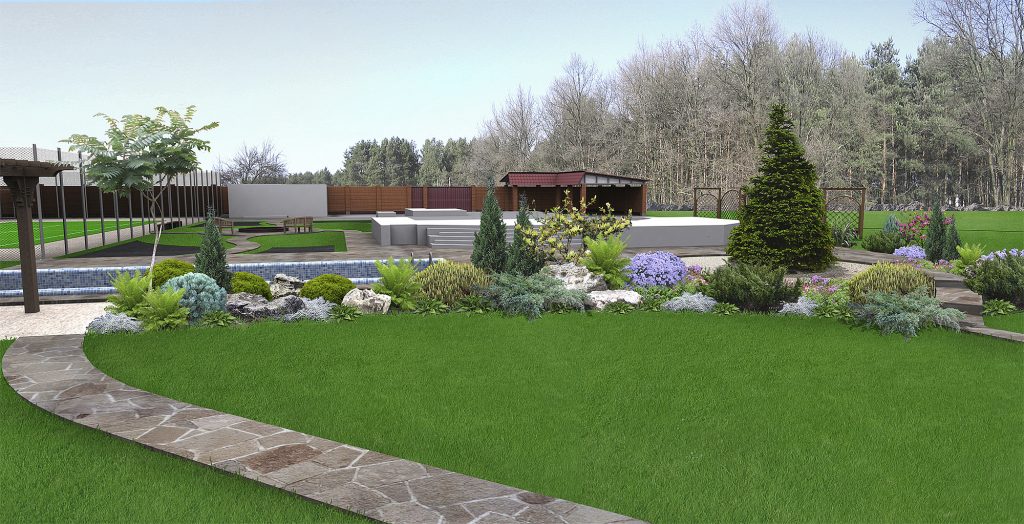 Natural Grounds Landscaping
Pugh's Earthworks Customers & Others This May Concern:
NALP is the national trade organization representing the $82 billion landscape industry in the United States. Member companies specialize in lawn care, landscape maintenance, tree care, irrigation, and water management. Landscape professionals work daily throughout the Nation servicing homes and businesses to maintain their landscapes, sustain the environment, and take pride in our communities by enhancing and maintaining healthy green spaces.
As a Nation, we are all struggling to combat the rapid transmission of the coronavirus "COVID19,"and we understand and acknowledge that in some instances, drastic steps are being taken, including shutting down businesses deemed non-essential. We are communicating with you today to assure you that landscape services are essential services and must continue during any emergency declaration or quarantine scenario. Landscapers are partners during this critical time in assisting in the protection of public health and public safety. Without the landscape industry conducting these valuable services, we will undoubtedly see increased instances where people may be harmed or become sick from other illnesses compounding our already stretched medical resources.
Recently, Counties in and around the greater San Francisco metropolitan area enacted a temporary "lockdown." We anticipate other municipalities and states to take similar precautionary steps. The "lockdown" issued by these counties exempt "essential services," pertinent for the landscape industry is the below portion of the exemption: ix. Plumbers, electricians, exterminators, and other service providers who provide services that are necessary to maintaining the safety, sanitation, and essential operation of residences, Essential Activities, and Essential Businesses For the foregoing reasons, landscape services should be deemed "essential." Landscapers are protectors of public health performing essential treatments to lawns and green spaces to reduce the transmission of dangerous and deadly diseases through pests like mosquitoes, ticks, and fleas.
Landscapers protect property and maintain greenspaces that could otherwise jeopardize public safety. Unkept fields and green spaces increase the chance of injuries. Crime rates are increased in areas where green spaces are not maintained. Tree removal is also a critical function of our industry to avoid damaging homes and their families. Landscapers play a critical role in boosting morale and mental health during a difficult time for our Nation. Without landscape services fields, parks, businesses, and homes will become overgrown and unkept, which can have dramatic psychological effects on the mental and well being of our communities.
Spring is a critical time of year for our industry due to the abundance of growth in the spring that requires prompt maintenance and care. Any halt or delay in landscape services during this time of year only magnifies potential safety problems and become much more difficult to maintain later in the year.
Lastly, our industry is taking aggressive steps within our organizations to stop the transmission of COVID-19. Because our industry functions outside this greatly reduces the chances to come into contact with other individuals. Within the industry, strong policies are being put in place to maintain social distancing with both clients and within our teams that are working in the field. We are all in this together, and the Landscape industry stands with our public officials to stop the rapid transmission of COVID-19 while also continuing to perform those essential functions that are necessary within our communities throughout the Nation.
Sincerely,
Britt Wood
Chief Executive Officer
National Association of Landscape Professionals
Credentials/Affiliations/Degrees, Certifications
The Pugh's Earthworks team has all the proper credentials, degrees and certifications necessary to deliver top quality landscape and lawn maintenance design, installation and maintenance services. Our team is experienced, highly skilled. The all operate with a customer first attitude.
Our firm is one of the largest landscape and lawn maintenance companies in Tennessee. We have all the right equipment to handle commercial landscape and lawn maintenance projects. Our client base includes hotels, motels, business complexes, retail shopping centers, hospitals, schools, apartments, condominiums and other commercial accounts.
Tennessee Department of Agriculture Chartered/Licensed
Mississippi Bureau of Plant Industry licensed
Arkansas State Plant Board Licensed
Master of Business Administration
Bachelors of Science in Agronomy
Bachelors in Landscape Contracting Management
Associates of Applied Science in Landscape Management
Associates of Applied Science in Turf Grass Management
Dynascape Certified
Planet Professional Network
Landscape Industry Certified
Thank you for reading our blog. From the Pugh's Earthworks family, we wish you a Joyous and Happy Holiday Season!